Online Small Text Generator For Whatsapp
Small Caps Font
Small Text Generator Whatsapp
High Above font Fonts
Small Text Generator Whatsapp
Small Text Style
Small Text Generator Whatsapp
Tiny Caps Fonts
Small Text Generator Whatsapp
---
Welcome to Small Text Generator
Greetings & a warm welcome to all of you users on the small.text-generator.org website. We know that you are searching for a small text to share your post on any social media/Post content, you are absolutely in the right place.
The small text generator converts the text typed or copied by the users into small tiny text. A small text generator converts normal text into 4 different small text font styles which we will discuss below.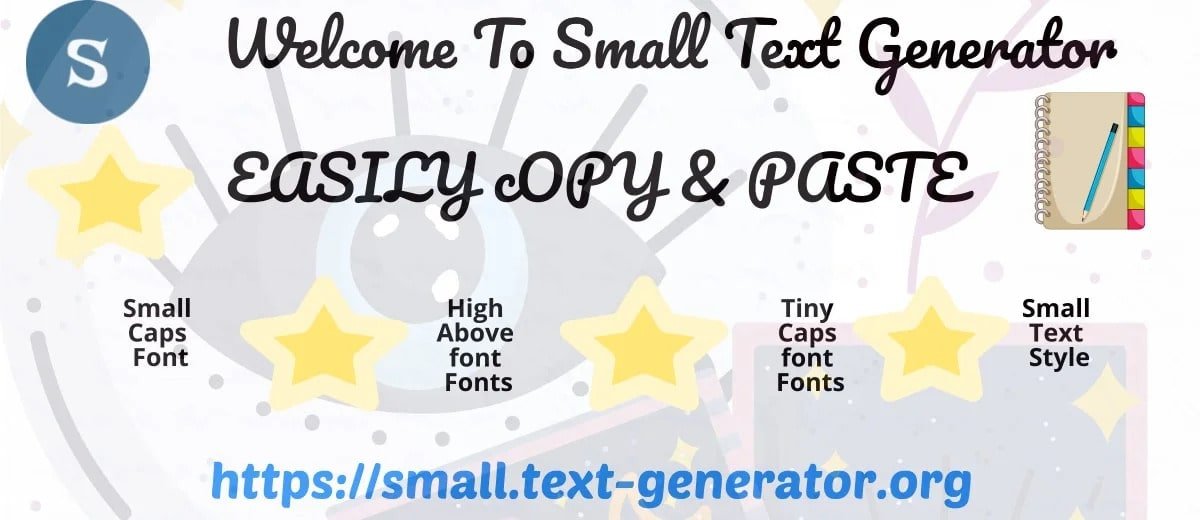 How to use Small Text Generator Tool?
It is very easy to use the small text generator tool, this tool can be used by all people above 12+ age. To convert to small text, the user has to type in the above text box, along with typing, you will see that the normal text will also be converted into small text.
You can easily copy and paste small text anywhere for your personal use.
You can checkout these tiny text font styles for your title and simply copy and paste-
Small Caps Font Text Style - sᴍᴀʟʟ ᴛᴇxᴛ ɢᴇɴᴇʀᴀᴛᴏʀ
High Above Fonts Style- ˢᵐᵃˡˡ ᵗᵉˣᵗ ᵍᵉⁿᵉʳᵃᵗᵒʳ
Small Text Style- ˢᴹᴬᴸᴸ ᵀᴱˣᵀ ᴳᴱᴺᴱᴿᴬᵀᴼᴿ
Tiny Caps Fonts- ᴤᴍᴀʟʟ ᴛᴇxᴛ ɢᴇɴᴇʀᴀᴛᴏʀ
---
Where and how can I use the generated small text?
Tiny text can be used in many places like the small or tiny text can be used in social media such as to share a new post on Facebook, Whatsapp, Twitter.
We can make our post attractive by copying small text font in the post caption.After clicking the Copy button next to the small generated text font, you can paste the small text anywhere.
These small fonts have been tested in almost all devices, this font style can work well in mobile and desktop devices.